Woodworking Show of Texas at the Arabia Shrine Center, Sept 10-12.

Woodworkers Club of Houston display.

Denis Muras demonstrated scroll saw techniques.

Peter Cooper of Pekesafety spoke on the topic of respirators for shop use.

The entrance door would never stay shut thus letting in outside noise so Mike Turner stepped up and "voluntered" to be doorman.




Chuck Meeder - Nativity scene of various woods and tote box of butternut.


Chris Farquhar - The two train designs came in a group of 5 that I purchased from "The Wooden Teddy Bear Collection" catalog. I made the first one 6 years ago and I finally got around to finishing these two. The trains and the frame are made out of Pine. The darker wood frame (on the inside) and the tabs on the back are made out of Dark Walnut. The background is Black poster board and the back is plywood. The name tags are laser etched.



Andy Tofuri - I made this Memorial Flag Case using curly cherry and curly maple. Finish is Odie's Oil. The real challenge was cutting the 22-1/2 degree angles at the bottom of the triangle. Getting the angle and the length is critical, so I'm looking for any guidance members might have using conventional tools and jigs to get a better fit if I or anyone else ever has to make another. The laser engraving was done by a friend (not a WWCH member) on his Neje Master 2S laser engraver ($369.00) equipped with a 30 watt laser, using the air assist, and using LightBurn software ($40). The engraving took a little over 1 hour.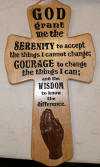 Bill Teague - crosses and flag case.

Charles Volek - Toy duck and grasshopper of oak, poplar, and pine.



John Dawson - This maple vase is a segmented turning made from 10 rings of 12 segments each. Each ring started out as 3/4" thick with a final thickness of about 9/16" after flattening. The two trim rings near the top are thin veneer strips. Overall size is about 7" across and 5-1/2" tall. I made this with my grandson as a training exercise for him to learn segmented turning. We used Jerry Bennett's Wedgie Sled to accurately cut the segments.
This purpleheart and maple puzzle is comprised of nine interlocking pieces. Very difficult to put together. When assembled it is a 6" cube.







David Janowitz - First the Cedar garden beds. These are made of "green" (aka not dried,) rough cut red cedar 2x6 boards. I planed the outside surfaces, jointed the edges, and also routed the top trim pieces with a 1/4" roundover. A diagonal at the bottom of each corner adds considerable strength, and cross bars keep it from spreading in the middle.
Next, I made dibbles, (aka dibbers, aka dibblers,) from, of course, Osage Orange. They are used to poke a hole in the ground, then you can drop in a flower bulb. The grooves mark depth in inches. Turned in two parts, I made a tenon on the vertical piece, and drilled a hole in the handle with a 3/4" forstner bit, and glued together with Titebond III. The wood's hardness should make these very durable.



Rick Spacek - Ercot in water of box elder.