Chris Farquhar - My Intarsia project "Grizzly Bear" design came from Scrollsaw Woodworking & Crafts magazine "Winter 2020". It's a design by Brad & Hazel Ekland. There are 34-pieces; the wood used was: Oak; Ash & Black Walnut. Finish is spray on Satin poly; the eyes were spray on gloss poly. This was done to make the eyes pop, or to stand out more.

Rick Spacek - My picture, FEEDING TIME, was cut from a pattern I found that was hidden in my files.
It is 11" x 14" a 2/0 spiral Pegas blade. It is painted with acrylic paints sprayed with clear gloss.
Baby Cradle pattern was on a scrollsaw web site, and was cut out on 1/4" plywood. Cut with 2/0 spiral blade, painted with spray paint.



Norm Nichols - 3 tier cake stand and "plates" of mesquite




Roy Quast - Vase of mesquite and ebony and globe of 2268 pieces of various woods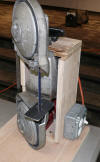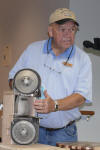 Mike Turner - Metal cutting portable bandsaw (Milwaukee portalign band saw) mounted in a cabinet in the vertical position to cut small pieces of metal. It is designed to mount on your workbench with a clamp to secure it or you can remove the tool and use it. There is an electrical switch with a receptacle mounted on the side where you can power up the tool while mounted in the vertical fixed position. The cabinet is 3/4" oak plywood (Wink-wood).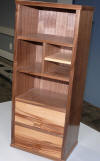 Mike Hardy - Walnut and pecan wall cabinet. The cabinet is constructed with Krenov style dowel joinery and stopped dados for the shelves. The one small shelf is pecan as well as the drawer fronts and pulls. The back is ship lapped walnut. The drawers have hand cut dovetails, although the fronts are 'fake' half blinds as the whole reason for this cabinet was to use the two drawer fronts which were off cuts from a music stand I built several years ago. It is finished with Liberon. Dimensions are 24.5" x 10" x 7".
Andy Tofuri - I showed a clock I made from maple and walnut sections cut in curved segments on a sled I made for my bandsaw. I've been doing some investigating on cutting precision angles, and a You Tube video related to cutting segments for bowl turning lead me to yet another You Tube video. The link is here: Best Segment Cutting Sled Ever Wood Turning - YouTube. I am not planning on purchasing a lathe to turn bowls, but thought this sled would be a good exercise to build and try out. I was wanting to make a clock as I had some old watches I wanted to incorporate into the face, and I had acquired a small box of clockworks and assorted clock hands at an Estate Sale essentially for free.


Two scrap wood cutting boards of Maple, some with curly pattern, (thanks Dave Vandewerker and Andy Tofuri), also Mesquite, Osage Orange, and white oak. I used a cove bit to router recessed handles on each end.
Two lazy susans of Mesquite and Maple, 17 1/2", with 10" oak bases. Just two glue ups gave this interesting pattern. I used inexpensive 9" round hardware from Rockler, but their prices recently more than doubled, so my next batch is from Amazon.

Gary Rowen - File cabinet of poplar (cases) and drawer fronts of red oak. Each section was constructed separetly to make carrying up two flights of stairs easier. The four individual sections were then screwed together.







David Janowitz - Three African Blackwood table tops. Extremely hard wood with many defects, and gorgeous grain. First I cut boards to rough size, with straight edges for jointing, then passed them on. Another group added epoxy with brass shavings, and flattened them. I then cut to exact sizes, gave a beveled edge, cleaned up the live edges, sanded and sprayed 4 coats of satin urethane with an HVLP sprayer. Finally the contractor had bases made of brass plated steel. There is a big dining table, a desk top, and a narrow coffee table.