Lon Kelley walked members through a slide show to help us understand how he crafted these exquisite BOXES from multiple pieces glued together. He finished with spray polyurethane.
Larry Barron - Bowls
Talking about his trials and tribulation with wood turning, Larry Barron crafted a very unique bowl from a yet to be identified chunk of wood. It has a natural edge finish – some bark remains on the item. The plate is a cutoff finished in Minwax Sedona Red and enhanced using a detail burner. Both items were finished with wipe-on polyurethane.
George Alderete - Boxes
Made by hand tools in the Hand Tool Splinter Group, George Alderete crafted this walnut box with a bottom of Ambrosia Maple. He finished with Watco Danish oil.
Mike Hardy - Stand in a Box
Mike Hardy crafted a desktop music stand finished with Liberon. The "things" that stick out when closed are what keeps the door flat when opened. That was clever, Mike.



David Glasco - Project for City of Webster
For an art contest, for which he won Second Place, David Glasco crafted this project of maple, purple heart, yellow heart, walnut and some rosewood, representing the City of Webster, Texas, mostly on a CNC machine. David's design is based on City of Webster man hole covers – you didn't know man hole covers could look so good, did you?
George Graves - Plier Base
Filling a need to make using specific pliers easier on the hands, George Graves designed and made this item of Baltic birch to hold the pliers in place so they could be used like a typical desktop stapler.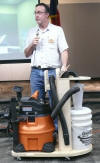 John Lastrapes - Shop Vac Cart

John Lastrapes explained how he put together his clever two-stage vacuum system to collect mostly dust from his table saw. His name's not Hoover but it works like one – even better.
Rick Spacek - Juggling Hands
With attention to detail in a Charles Dearing pattern, Rick Spacek scroll sawed these juggling hands then finished with a natural stain and a top coat of clear gloss.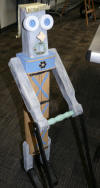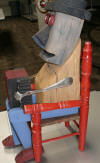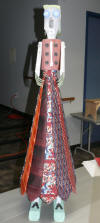 Bob Wink - Whimsical Folk Art

Bob Wink debuted more whimsical characters, the zydeco squeeze box musician, the lady pushing a baby stroller and the lady from…uh...Taiwan? Yes, those are real neckties repurposed in the Bob Wink style. And Bob uses Wink Wood.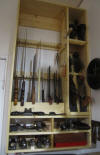 Chuck Meeder - Bench and Saw Storage

Showing off his collection of saws and planes, Chuck Meeder showed club members his cabinet to store them made from Home Depot pine and finished with some "old" polyurethane found in his shop. The stool was crafted from maple cutoffs and the joinery was hand cut and the top surfaced flat with a hand plane – no sanding. Finished with polyurethane.