Steve Wavro - Majestic deer Intarasia of aspen, cherry, ebony, mahogany, maple, spalted maple, walnut and poplar.

Chris Farquhar - My Intarsia project is a Boston Terrier I made for a young lady at Dogs-Day-Inn in Atascocita. It was made to look like her dog "Ezra". I started with a design from Kathy Wise and changed some of the features to look like her dog. The wood I used is: Pine; Huisache; Black Walnut & African Mahogany. The finish is Satin and the eyes and inside the nose was finished in Gloss



Dave VanDewerker - Turned several different styles of grinders. All are turned, sanded to 400, sealed with shellac and finished with lacquer. Woods used are cypress, charred cypress, white oak, charred white oak, walnut and mahogany


George Graves - Wood boxes.

Rick Spacek - Waves and fish jumping of box elder and Wink wood.
Andy Tofuri - Puzzle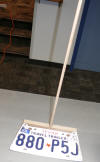 Mike Turner - Dust pan of pine and someone's missing license plate...hee...heee.


Tom Blanco - Rocking chair of walnut.


Chuck Meeder - Intarsia gingerbread man Christmas Tree ornament; walnut, mahogany, cherry and maple is finished with Danish oil and Deft.
The snowman Christmas ornament is a simple carving of basswood and painted with acrylics.
Wine rack is a Carol Rothman design made from scraps of cherry, walnut, mahogany, and maple and finished with 4 coats of Tung Oil.
The adjustable height sawhorse is made from construction 2 x 4 and 1/2 inch plywood without finish.


Paul Carr - Emoji coasters.


Roy Quast - Vases


Tom Paulley - Bandsaw reindeer made from pine using patterns from Workshop Companion (smaller ones) and Farbulous Creations (taller ones).
Finished with an oil and wax blend called Wood Honey from Total Boat. Sort your pine lumber to find tighter-grained material.