A country barn in intarsia is a gift for Steve Wavro's daughter and son-in-law who live in Kansas. Steve found a logo of the Hudson Cream Flour that he wanted to use on the barn instead of the tobacco logo that came with the design but the local awards shop laser just didn't give Steve the look he wanted. Steve received considerable help from fellow member Rick Spacek who used pyrography to duplicate the logo. The barn was created from about 200 pieces of eight different types of wood in various thicknesses.
From a Steve Good pattern the puzzle of Steve and his wife was scroll sawed with several 2-aught Flying Dutchman blades.
Mark Bolinger explained how he built his drum sander that uses a lathe to hold the drum. With his rig there is no need for a powered feed and gloves provide sufficient protection, without grabbing, for hand feeding on his adjustable feeder board. A wood "log" is first fine "tuned" by passing a board underneath with flat sandpaper glued to the board. Once tuned a roll of sandpaper can then be glued to the drum. Mark's drum sander works great for sanding veneers.
Download these videos of Mark's drum sander in action:
MonProj/YR19/PhotosDec19/MOV01422.MPG
With old growth pine and some bird's eye maple veneer, Dave VanDewerker crafted these two service trays. Dave said he got good results making splines and cutting grooves from his table saw. He finished with two coats shellac topped with polychrome spray.
Rick Spaced scroll sawed a four-wheeler, fireplace, and sleigh and then hand painted them. Rick used a #2-aught spiral blade, which cut through very easily, to create the four-wheeler from machine grade plastic.
From a larger Shane Dennehey design, Norm Nichols crafter this smaller version of his cross from mesquite, black walnut, and pecan on a red oak base. Norm sprayed finished with Varathane.



Denis Muras showed more Jeeps of various woods some of which are Christmas tree ornaments. The rack of letter "X"s is a toilet paper holder with the rolls of toilet paper serving as letter "O"s. Something else to do while holding court from the porcelain throne.

George Graves turned three bowls of Color Ply, spalted maple, and mahogany. George says turning Color Ply creates lots of sawdust and recommended wearing a dust mask. On his bowls George finished with his own blend of 1/3 denatured alcohol, 1/3 boiled linseed oil and 1/3 shellac.

Ron Kirchoff's cousin asked him to craft a mancala board for his daughter so Ron did so from basswood and some walnut veneer. The challenging part was getting the board to align properly for routing the bowl holes. Ron sprayed with canned lacquer.
Designed with a senior citizen in mind, Chuck Meeder crafted a shoe bench using simple dado joints reinforced with dowels. Chuck finished with two coats of traditional milk paint topped with two coats of Danish oil (milk paint without a top coat will spot if water gets on it).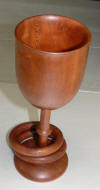 Richard Hash's son got married and wanted a Celtic pattern goblet so Richard turned this goblet from cherry wood taken from the family farm, circa 1840, in Virginia. Richard had great success turning and cutting the captured rings using the Robert Sorby #805H Captive Ring Tool. The adjustable angle tip worked for him on the first try and every try since.


Kevin Shaw's wife wanted a rosary box so Kevin hand carved all but the rough work for this rosary puzzle box. Kevin crafted other rosary boxes for church auctions.
1Wink Wood: Bob Wink lives near a commercial woodworking facility that gives away what they consider to be scrap pieces of commercial grade plywood and misc hard woods. Bob rescues this wood before a Grinch comes and takes the scrap for firewood. Many woodworkers in WWCH have made good use of these excess pieces by making jigs, toys, and incorporating them into their projects as you've seen in many Show n Tell projects. This source of wood is what has become known as "Wink" wood
2CNC - Computer Numerical Control