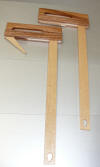 Rich Bajenski - Laminated Wood Cam Clamps
A tool just right for luthiers, a wooden cam clamp was crafted by Rich Bajenski by laminated three contrasting pieces together. He finished with two coats of Watco Danish Oil then waxed for a shine. This was a project done in the Hand Tool Splinter Group.


George Alderete - Box
The most expensive part of this box that George Alderete crafted was the metal top handle. George used pieces of wood he had laying around and then used planes and chisels to craft his box of ambrosia maple topped off with three coats of Danish oil.
David Janowitz - Dining Table
From a big log David Janowitz was able to mill large lumber boards and then craft them into this very beautiful large table. David finished with water borne urethane. David spoke about how fast he was able to air dry lumber in his metal shed where the sun beats down on it.
Glen Edwards - Plaques
Glen Edwards's son has a couple of friends getting married so he crafted these two plaques for them. Glen made several Texas towel holders for a restaurant they frequent. The plastic ring keeps the towels off of the base – don't mess with Texas.



Charlies Bennett - Plywood Coffee Table

Making 120 cuts and using a half gallon of Titebond 3 glue, Charlie Bennett and his son made this table from one sheet of maple plywood. He finished it with polyurethane.
From the hand tool splinter group meeting Jeff Larsen crafted a couple of marking gauges, one that marks with a pencil and the other with a cutting tool. Mark used white oak, red oak and a piece of Osage orange. Jeff definitely left his mark.
Denis Muras - Toys
Denis Muras showed club members toys that he made using mostly Wink wood1.
Mike Green - Framed Ship
Mike Green made several frames for the ladies in a retirement home who put together picture puzzles. As a thank you gift they made a tall ship puzzle for Mike who had been in the Navy. Mike glued the puzzle to ¾ inch MDF then used epoxy resin to seal then framed it to hide the edges – ahoy there Captain Mike!


Bill Harris - Toys

Because of the flood Bill Harris had more time to work in his garage so he crafted toys using Wink wood1 and 2x4s then finished with mineral wax.






Don Lackey - Marking Gauge

During a hand tool splinter meeting Don Lackey crafted this marking tool from plans from Fine Woodworking magazine. Don used maple, oak and some African mahogany plus a blade piece form an old hand saw.




Joe Touzel - Lighted Sphere

Eleven holes equidistant apart in each strip locate the LEDs that will light up this sphere crafted by Joe Touzel. The formal name for this sphere is icosidodecahedron – a ball of pentagons and triangles. Joe did not use a form – the strips just "fell" into place as he assembled the sphere. Have a ball, Joe!