Mike Turner - Taborets

Mike Turner, WWCH President, showed club members his Taboret that he crafted with hand tools 52 years ago (he was still in diapers). This was Mike's first woodworking project and was crafted entirely of hand tools learning several different woodworking skills in the process – a lot for one project. The second one was made by a student several years ago mostly with power tools (without a smartphone either). Mike's taboret is of mahogany, the other of pine.




Denis Muras - Window Frames, Locomotive and VW Bus

These window frames, made by Denis Muras, will definitely grace a church sanctuary. They are of simple construction and lightweight. After making trains for his Mother-in-Law's grandson, Denis made a locomotive and a VW bus/camper for himself.



Steve Wavro - Christmas Statues

Taken from some Kathy Wise patterns, Steve Wavro crafted this set of figurines. What's different is that both sides of the figurines are shaped – there are no unseen "back" sides – a new challenge for Steve. As usual Steve did not stain but used Watco oil for certain woods to make the grain "pop" out better and some polyacrylic on other woods.



Mark Bolinger - Spoons

From the hand tool splinter group, Mark Bolinger crafted some soup spoons – you know – for the lumps. Mark explained how he first roughed out the spoons by band saw then used a scraper followed by a spoke shave for the finer work topping off with a little bit of sanding. Spoons made for someone other than himself will have no finish – the recipient can decide what is safe.


Lon Kelley

Crafting items in sets of four – why? Yup! For four (no, not 44) daughters who will be proud owners of their father's work, Lon Kelley. Lon tilted his bandsaw, with a ten tooth blade, to five degrees to cut the pieces required for these vases and then explained how everything came together from walnut, mahogany and some Wink wood.





John Gay - Boxes

John Gay put his scrap pieces to work by constructing boxes which will be donated to Beads of Courage (Arts-in-Medicine for Children with Serious Illnesses). John explained how he cut and glued, then again cut and glued, and again cut and glued to make everything come together. He used plywood for strong backing. I'm sure this will make some children feel much better.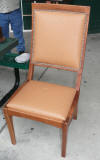 Ron Matherly - Chair

Sitting down to show his chair, Ron Matherly explained how he used a CNC machine to groove out the wood for the inlays on the curved back of the chair. Because mesquite wood comes with cracks Ron chose to epoxy turquoise into the cracks as you can see in the photo – looks quite artistic. Stressing the joinery is paramount when crafting a chair, Ron chose to use his Festool Domino machine. Because mesquite is not plentiful, Ron wrote a check out to his supplier for the privilege of first pick at the next delivery. The upholstery of ostrich was done by a professional upholsterer.


Mark Womack - Cutting Boards

From maple and purple heart Mark Womack crafted these two cutting boards which he finished with Watco oil. Mark elicited discussion on how to eliminate or avoid router burns – a problem that plagues all woodworkers using routers.


Norm Nichols - Crosses

Norm Nichols made three crosses to show in a craft show next month. Norm used black walnut, red oak and golden oak staining some then finishing with polyurethane. The Celtic cross is a Sue Mey design. Notice that one is a Fireman's cross.



Rick Spacek - Eye of the Elephant

A "tusk" well done by Rick Spacek as he showed club members his Eye of the Elephant scroll saw work. Rick used 30 year old walnut then finished with walnut stain.



Don Pott - Puppy Intarsia

Crediting Steve Wavro for his help, Don Pott showed club members an intarsia of a Jack Russell terrier, a Christmas gift for his wife. This was Don's first attempt at intarsia – good job Don!